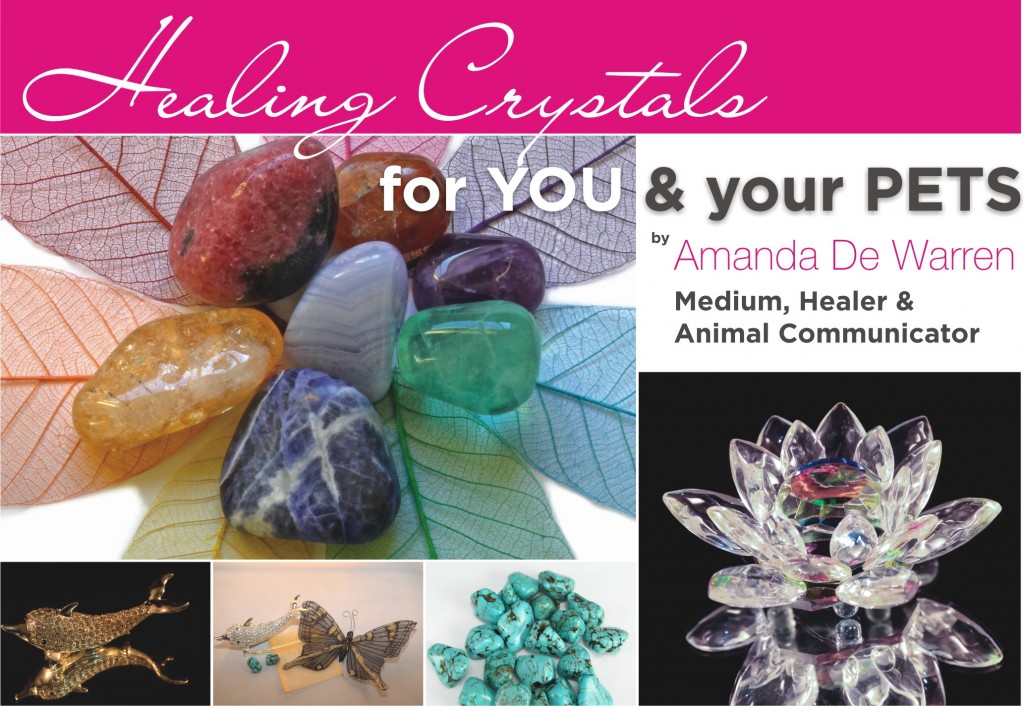 For the past two years I have spent many, many hours learning about crystals and their amazing healing abilities, and I'm excited that I now have a range of 15 different crystals for you to choose from. I have acquired them from different places, making sure they're the right crystals with the precise vibration needed. Each crystal of your choice is hand chosen by me personally and my unique structured energy is transferred to the crystal which is then programmed and tailored for you.
Once you have chosen your unique crystal it can then be used only for you personally as the crystal is instructed by me to attach its energy to your personal energy. Each crystal has its own uniqueness and purpose so you may need to choose more than one to strengthen its purpose and deal with each individual reason, and every crystal I choose knows its purpose for being with you. There are endless amazing uses for my crystals, from a 'protection of children' package to bringing peace and calmness into your life… and let's not forget our pets too.
As with all of my products, the crystals have been tried and tested and I have spent many hours seeking out the right ones. Every one releases a constant low pulsating and very positive energy and vibration over your lifetime, from the moment I choose it. Each one is personalised for you or your pet or even as a gift to someone.
If you're having trouble choosing the right crystal I have information that may help you choose or I can make the choice for you. There are so many beautiful combinations, with packaging from coloured organza bags to gift boxes.
Love, Amanda
---
Crystals on Offer & Their Purposes
Among the many crystals Amanda has available, below are the main ones she's chosen. There is a brief description of the crystals and their purposes, so you can choose whichever of these you feel drawn to and that suits your needs.
Please be aware that because of the volume of crystals being ordered and because Amanda needs to attend to each one personally, it may take up to three weeks for you to receive your crystal.
Besides those mentioned, we also have access to many other crystals so if there's a specific one you require, please let us know.
Each crystal needs to be in an individual bag as the energies are different.
Meanings of Crystals
Rose Quartz
Also called the love stone and is said to bring happiness into the family. It is a very soothing and calming stone.
---
Amazonite
Amazonite assists in communicating one's true thoughts and feelings without over-emotionalism. It also enables one to see a problem from another's point of view in order to affect peace, or to see both sides of an issue objectively to resolve one's own inner conflicts. Sleeping with an Amazonite can bring these components into focus through the symbolism of dreams.
---
Tiger Eye
This gorgeous crystal brings through power and integrity and helps you to think through any situation. It is also used in meditation to calm the mind.
---
Carnelian
Will help you connect to your inner self, helping to uncover personal power and balance emotions. It is also said to be helpful with kidney and lung problems.
---
Moss Agate
An overall healer helping with painful physical conditions. It is also the one Amanda recommends for fertility.
---
Blue Lace Agate
Gentle and calming, brings tranquillity and harmony to the soul.
---
Tree Agate
This amazing crystal encourages spiritual growth and is said to bring in good fortune. It also helps with emotional and physical exhaustion, skin problems and psychic attack.
---
Indian Agate
Improves your sense of creativity and is also a good protector.
---
Yellow Jasper
The crystal Amanda suggests for travel protection. It also shields from negative energies and helps with depression.
---
Labradorite
Amazing for stress relief, self-discovery, direction, and intuition.
---
Turquoise
Used for the protection of children and is the one Amanda uses for that purpose. It also helps with strength when faced with trauma.
---
Amethyst
Promotes prosperity and abundance, inner strength, past lives connections, telepathy.
---
Clear Crystal Quartz
Universal crystal and channels the universe's energy, manifesting, directs specific energy requests.
---
Moon Stones
For new beginnings, fertility, travel protection; this crystal works with ancient powers.
---
Aventurine Green
Stone of opportunity, calms anger and irritability, promotes compassion for yourself and others, winning energy.
---
Hematite
Helps to develop magnetism. It also calms the heart and soul helping with nervousness, stress and anxiety; also helps with willpower and courage.
---
Choosing Crystals to Suit – Amanda's Suggestions
Stress Relief
Labradorite is said to give off a low pulsating positive energy to help calm your nerves.
Intuition & Self Discovery
Labradorite is the crystal that most enhances self-discovery and intuition.
Personal Magnetism
Hematite certainly can help you to bring that personal magnetism to the surface.
Love & Happiness
Amanda suggests Clear Crystal Quartz to bring in the love and happiness energy.
Forgive & Forgiveness
Hematite helps our energy to let go of the negative and bring in the positive, especially regarding the past.
Emotional Stability & Balance
Carnelian is very good for the emotional energy and is able to balance it out.
Personal / Business Direction / Spiritual Growth
Amazonite, Tree Agate or Tiger Eye helps you in many areas:
Clearing of mind and better direction thoughts
Helps to remove blockages
Brings peace and calmness to your soul and mind
Clearance of negative energies and protects from psychic attack
Will not affect your partner sleeping in the same bed as you.
Home, Travel & Vehicle
Indian Agate or Yellow Jasper are recommended.
For your home, purchase two and place them near the front and back entrance.
For travel, place one in your luggage and the other in your carry bag.
For your vehicle – large (truck) or standard – place one in the console of the vehicle (particularly good for long haul truck drivers and new drivers).
If you change vehicle, take it with you as it is programmed to keep YOU safe in whatever vehicle or means of transport you travel in.
Elderly
Carnelian brings peace to the aging loved one. Put this one under or near their pillow to give them the full effect.
Invoke Loved Ones & Guides
Indian Agate is a very calming crystal and clears the way for our loved ones and Guides to make contact with us. It is also said to link us to the universe.
Anxiety, Depression
Yellow Jasper is a very calming crystal and can protect you from those very negative vibes. This one is also good for pets with anxiety and depression.
Fertility
Amanda suggests Moss Agate as this crystal has a calming energy for the reproductive area and is said to change the structure of fertility energy.
Pets
Whether it's for psychological, behaviour, anxiety, fear or emotional benefits, Amanda shall choose the crystal that she feels best fits the particular case, which will take some understanding and connection to the soul of your pet.
Place the crystal on or near their general sleeping area – as long as they're within ten metres of their crystal it will be very effective, even if they don't always sleep near it. If they are outside pets, it is sufficient as long as the crystal's energy is within easy reach of the pet for about six hours a day. This is particularly good if you have an outdoor cat.
Horse
The crystal can be placed in the stable or near the gate as it will know which horse it needs to target and the problems that need to be addressed. You can also take the crystal with you when riding your horse.
Birds
The crystal should not be placed directly in the cage but nearby at ground level, and not above the cage.
General Wellbeing
For general wellbeing of your pet, Amanda suggests Tree Agate or Hematite or Rose Quartz.
---
Shop Online
Showing 1–12 of 18 results